Sell your music on Parts and Score
Share your music to the world
Parts and Score makes it easy to sell, promote, and protect your music.
Sell without limitations
Keep complete ownership
Retain all the rights and ownership of your music, including performance rights and copyright.
Continue to sell elsewhere
No exclusivity. You're can continue to sell your music elsewhere, or even leave Parts and Score at any time.
Sell for free
Unlimited pieces. Unlimited sales. Unlimited earnings. All without paying a cent.
Sell your music the way you deserve
Traditionally self-publishing has compromises: very low royalties, slow payments, upfront costs, or lots of work. Parts and Score changes all that.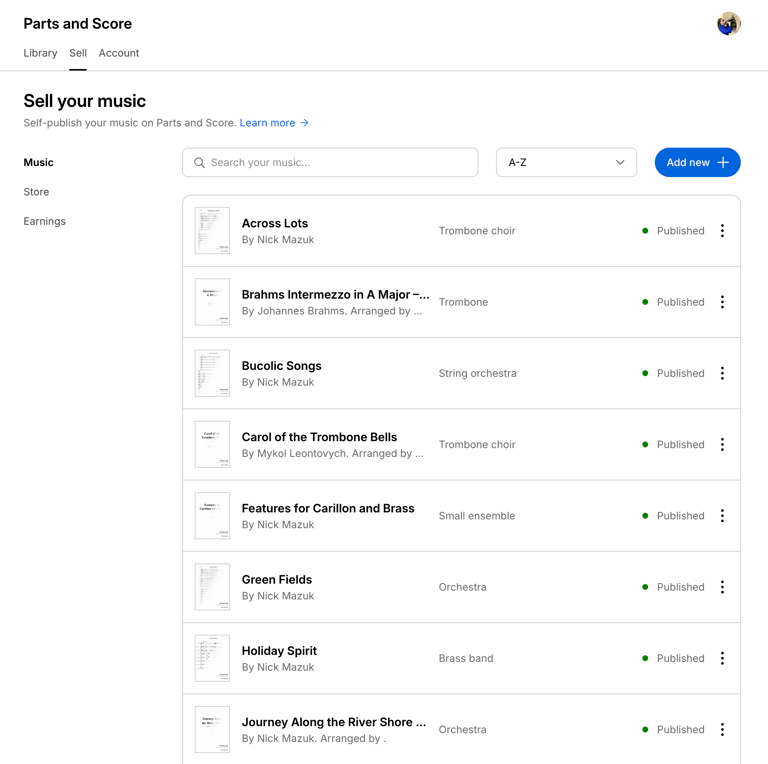 Sell unlimited music
List an unlimited number of pieces. Sell an unlimited number of copies. Earn an unlimited amount of royalties.
Earn high royalties
Earn 55% of the sale price for every piece you sell. That's more than Sheet Music Plus, Arrange Me, JW Pepper, Music Notes, MuseScore, and Score Exchange.
Get paid quickly
Receive your royalties within weeks through PayPal. No more waiting over a month to get paid.
Promote your music the way you've dreamed of
Reach a wide audience of musicians and music lovers who are looking for your sheet music.
Customize your new storefront
Make your store look and feel like you. Customize every aspect of it, including the images.
List on the most advanced sheet music store
Control how your music appears in search, and what search terms it appears for.
Share your music everywhere
Share your music to Facebook, Twitter, and LinkedIn with just one click. Plus, Parts and Score automatically syncs with Google, Bing, and DuckDuckGo so anyone can discover your creativity.
Protect your music the way need
Make sure others can't share or sell your music without your permission. Parts and Score automatically watermarks every preview image and PDF that's sold. That way even if someone shares your music, you'll know who did.
Sold to Jane Smith on Parts and Score.
Trusted by hundreds of composers
I highly recommend Parts and Score and urge you to share it with other composers, arrangers, and performers!

Eric Heidner
Professor of music at SBCC
Parts and Score's interface is very user-friendly and intuitive. It has made publishing my arrangements much easier than ever before.

Olivia Nava
Music student
I need to stress that I really like this site. It is very user-friendly and easy to update. I learned very quickly how to make my material more attractive by replacing the thumbnail with a graphic representing the cover of my work.

…The creators of Parts and Score have done they're homework. Composers have nothing to lose and only much to gain by joining Parts and Score. Two thumbs up!

All your questions: answered
How does Parts and Score work?

Here's how Parts and Score works:

Create a free Parts and Score account.
Upload your music.
We'll help share your music and make it easy for musicians to buy it.
Earn high royalties when someone buys your music.
Receive your royalties in just a few weeks through PayPal.
What do I need to get started?

To get started, you just need two things for any music you wish to sell:

PDFs of the sheet music
A sample MP3 audio file

That's it! Then once you sign up, we'll guide you through the easy process of uploading your music.
What can I sell?

If you own the rights to sell it, you can sell it. This includes original compositions, arrangements of anything in the public domain, and arrangements of any copyrighted works you have permission to sell.
What are royalties?

Your royalty is how much you earn when you sell your music. Other places may use the terms "commissions" or "earnings", but they all mean the same thing.
How much can I earn?

You'll receive 55% of the sale price for any music you sell. There is no limit to how much you can earn.
How is my music protected?

For every piece you upload, we take great care to ensure it's protected. All preview images are watermarked. Historically, scam sites have used these preview images to sell your music without your knowledge or permission. Using Parts and Score reduces that likelihood. Additionally, every PDF is watermarked with the name of the buyer. That way, it's harder for people to post or share your music without your permission. Furthermore, we have dozens more security measures to ensure your music stays yours.
What is watermarked?

We watermark every preview image and every PDF.
Do I retain ownership of my music?

Definitely. You retain all copyrights, publishing rights, performance rights, complete ownership, and all other rights to your music. And you have the right to remove your music from Parts and Score at any time, for any reason.
Can I continue to sell elsewhere?

Yep. You own the rights to your music and you can continue to sell your music elsewhere. Selling on Parts and Score is not exclusive.
Can I sell music I've written?

Yep. You can sell any original music you've written.
Can I sell arrangements of public domain music?

Sure thing, though make sure the original work is public domain worldwide. Because different countries have different copyright laws, what's public domain in one country may not be public domain in every country.
Can I sell arrangements of copyrighted music?

If you have permission from the copyright owner, sure thing! Parts and Score does not currently negotiation the licenses you'll need.
Can I still collect my performance royalties?

Definitely. Parts and Score only sells your sheet music. You retain all rights to your music, including performance rights.