Preview images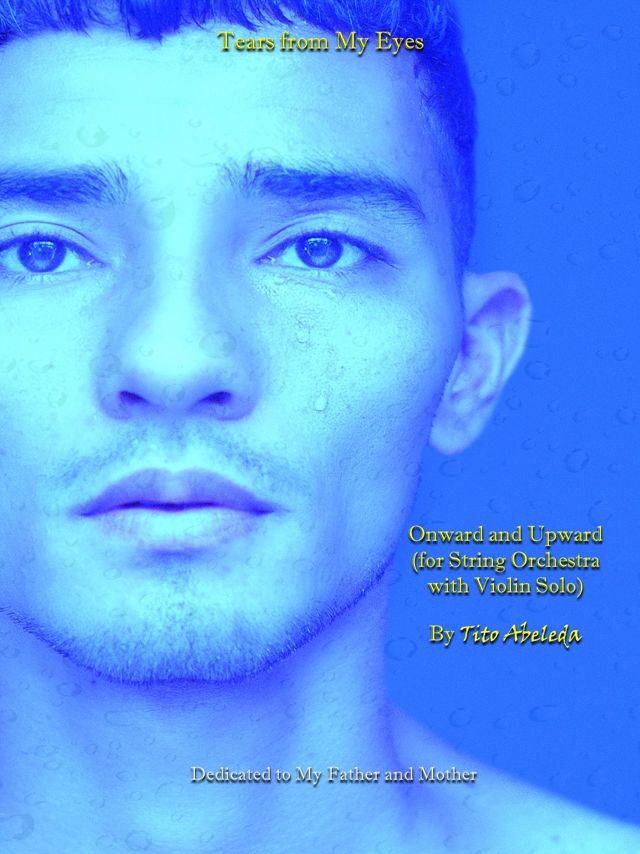 Video
Show video
This video is hosted by a third party. By showing the external content you accept youtube.com's terms and conditions.
Description
STRING ORCHESTRA - Violin Solo; Violin 1, 2, 3; Viola 1, 2, 3; Cello (non-solo) 1, 2; Contrabass 1, 2: Full Score plus parts = 43 pages. Composer: Tito Abeleda (1964 - ) Digital Download. A few months ago, I received a call from my parents. My Mother had some sad news to give me. Dad was very ill. My whole life flashed before me. My parents were always 200% supportive of all my artistic endeavors. None of my success would have been possible but for my Dad and Mom. My memories of my Dad and my Mom flooded my mind like a deluge. When I heard the news about how gravely ill he was I thought to myself that so often we give thanks, honor, or show our love when it is too late. Who wants to be that person? I was finally in the unique position to show my gratitude and love to my parents in the most special way that I could - through music from my heart and soul. I got the courage to look deeply within and then I began to write what was to become the first and second songs, respectively Tears from My Eyes: Remember Your Feelings and Tears from My Eyes: Reflection and Contemplation on my Tears from My Eyes: Songs from my Soul album. You will now be able to do just the same for your loved ones with this new music. Your intermediate level to advanced students and even professional musicians should find this to be a welcomed piece to learn and master. It looks deceptively simple but the learning and challenge comes from two smaller sub-ensembles playing together in their own collective units legato con moto while playing together as a whole music ensemble Everyone will enjoy and bathe in the beautiful harmonies that will resonate when the entire music ensemble begins to listen to each while playing together as a group. Your musicians will hone their skills in playing together with just the right balance that this song requires. Your musicians will also hone their skills for subdividing and maintaining an inner beat that is in sync with your conducting because there is no percussion and the notes are freely flowing on and off the down beat yet not sounding heavily syncopated when performed. When will you know when you have achieved the right balance and flow of the music? You will know when, because you will hear it and feel it when it comes into place. But I can help you with all of this with what I have to offer you today. I share with you now the final and 5th movement to Tears from my Eyes - Onward and Upward (for String Orchestra). This particular was created and produced after the Songs from My Soul album was sent for distribution. So, this song has yet to be officially released. All five movements will be released as an album Mourning in the Rain. This 5th movement Onward and Upward has a decisive emotional resolution and conviction in its pathos. The dynamics reflect accordingly ranging from mf to fff indicative of overcoming adversity and grief. Imagine overcoming despair, rising out of grief and depression and finally seeing the light of day - to join the ranks of the living and re-embracing life once again. Contact Tito for original compositions: http://bit.ly/TitoAbeleda_SoundBetter Email: [email protected] PRO: BMI.com Visionary Quest Records https://www.visionaryquestrecords.com Follow Tito on Social Media: Facebook: https://www.facebook.com/titoabeleda Twitter: https://twitter.com/titoabeleda Instagram: https://www.instagram.com/tabeleda YouTube: https://www.youtube.com/c/titoabeleda Spotify: http://bit.ly/TitoAbeleda-on-Spotify iTunes/Apple Music: http://bit.ly/TitoAbeleda_iTunes
Product details
Product details

| Detail | Value |
| --- | --- |
| Title | Tears from My Eyes: Onward and Upward (for String Orchestra with Violin Solo) |
| Ensemble | String orchestra |
| Composer | Tito Abeleda |
| Includes score | Yes |
| Includes parts | Yes |
| SKU | PS.752649 |
| Seller | Tito Abeleda |
All music sold on Parts and Score can be downloaded as a PDF. That means you can view it on your phone, tablet, or computer. Once you download your music, you can even print it out. Just download and play it!
Do note that you are only allowed to print the number of copies that you buy. And you many not distribute more copies (digital or printed) than you bought (e.g., sharing copies with students). Each PDF will have a watermark on each page with your name.
Tears from My Eyes: Onward and Upward (for String Orchestra with Violin Solo)
By Tito Abeleda
$20.00
Secure checkout
Instant downloads
Discover the
Parts and Score

difference
Download music
instantly
Don't wait for days or weeks for shipping. Download your music instantly.
Embrace
simplicity
Embrace simplicity in all things, including your music. Find, create, and share music easily.
Support the
planet
We contribute 2.5% of all our revenue to CO2 removal.
Preserve your
privacy
Your data is your data. We will never sell your data to advertisers or other third parties.